Marianna Christofides
1980, Nikosia
STIPENDIUM 2014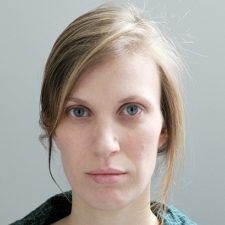 The scholarship of the state of North Rhine-Westphalia for female media artists 2014 was awarded to Marianna Christofides.

Members of the three-person jury were Dr. Inke Arns (Director of HMKV Hartware MedienKunstVerein, Dortmund), Thomas Thiel (former Director of Kunstverein Bielefeld) and Denise Ritter (artist and NRW Media Art Scholarship Holder 2012) and. The jury selected the scholarship holders from 55 applications.
Jury statement
The artistic practice of the cypriot media artist Marianna Christofides, who lives in Cologne, includes multimedia installations, slide projections, objects, photographs and texts. The thematic starting point of her cross-media works is often travel experiences, specific places or personal stories. She subjects archival material such as old glass slides, photographs and cartographies, text, film and sound material to artistic transformation and combines them in spatial installations with her own images and objects. As a result, temporal, geographical and thematic narrative strands often flow together quite intentionally in her works. By linking past and present, using transdisciplinary information and documentary methods, Christofides creates her own atmospheric topographies and fictional visual environments.
All her projects are characterised by a process of approaching the material and her own research, which reveals valid doubts about the fixed reality of objects, places and landscapes. For example, her current video work Here let me stand (2013, HD video with sound |4:3| 29'42" loop) focuses on an extensive folio from 1881 entitled Cyprus Antiquities – Excavated by Major Alexander Palma di Cesnola from the National Archives of London. Christofides combines the highly detailed images of archaeological artefacts, their chronologically as well as topographically subjective classification into a slow, poetic tracking shot. For l'histoire d'histoire d'une histoire (installation, 2012), randomly collected Laterna Magica glass slides were digitised, partially edited and condensed into a fictional film history in 200 still images.
The jury was convinced by Christofides' multi-layered work and her proposed project, which – based on an already planned residency – will continue the examination of the surface imprint of the landscape around Los Angeles, tracing socio-economic, geological and architectural traces of contemporary history there. Using the methods of cinematic montage, the artist will draw a current landscape portrait consisting of several media, temporal and disciplinary sources.
Marianna Christofides (*1980 in Nikosia, Cyprus) lives and works in Cologne. In 2011, the artist represented Cyprus at the 54th Venice Biennale. She has received numerous awards, including scholarships from the Stiftung Kunstfonds, Künstlerhaus Schloss Balmoral, Alexander S. Onassis Stiftung, Kölnischer Kunstverein and Imhoff Stiftung and was nominated for the 8th Deste Prize in Athens. She is currently a fellow at Villa Aurora, Los Angeles. Recent exhibitions of her work have been held at the National Museum of Contemporary Art (Athens), Gasworks (London), Kölnischer Kunstverein, Museum für Fotografie (Braunschweig), Museum für Gegenwartskunst Siegen, Kunsthalle Bremen and BOZAR Palais des Beaux-Arts (Brussels).

Further information on the artist's website