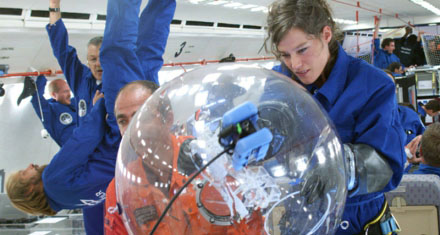 kleiner_2009_Stipendium_Brandis
Agnes Meyer-Brandis
1973, aachen
STIPENDIUM 2009

The scholarship of the state of North Rhine-Westphalia for female media artists 2009 was awarded to Agnes Meyer-Brandis.
Members of the three-person jury were Susanne Ackers (former managing director of HMKV Hartware MedienKunstVerein, Dortmund), Annette Schindler (former director of plug.in, Basel) and Sabine Himmelsbach (former director of Edith-Ruß-Haus, Oldenburg).
Jury statement
"The Unknown Theory Objects, also known as UTO's, are accidental condensations of the theoretical field. … UTO's are crystal balls in which the diffuse light of a theorem that does not yet exist appears."
This was written in 1993 by the Bilwet agency from Amsterdam, which aims to disseminate illegal sciences. These illegal sciences are often associated with something like futurology in general or trend research in particular.
The submitted project is entitled The Moon Goose Experiment/a bio-poetic investigation. The materials existing already are observations of the Moon Goose's behaviour and reaction under the influence of the total solar eclipse in Siberia, 2008, which the artist collected during a Siberian expedition to Novosibirsk. Similar to the classical behaviour of migratory birds, the Moon Goose migrates from the Earth to the Moon and back. Researcher Agnes Meyer-Brandis is investigating the question: What disturbance or change does the solar eclipse cause to the flight routes, the flight rhythm and the behaviour of the moon goose?
Agnes Meyer-Brandis uses technology as a pseudo-scientific instrument. She makes use of this scientific instrument and transforms it aesthetically in an artistic way by constructing and opening up imaginary worlds. The artistically strong position promoted by this project links biological processes with technological-scientific methods in a performative form. The poetic investigation of science makes a smart and complex statement on the major theme of "science and art".
The results of the residency were presented at HMKV Hartware MedienKunstVerein in 2009.
Agnes Meyer-Brandis (*1973 in Aachen) lives in Cologne. With her overall concept Forschungsfloß für Unterirdische Riffologie u. V. / www.ffur.de she developed her own language and defines her role very precisely as that of a poetics scientist. In different references to place and research journeys, her artistic language is constantly given new vocabulary.

Further information on the artist's website