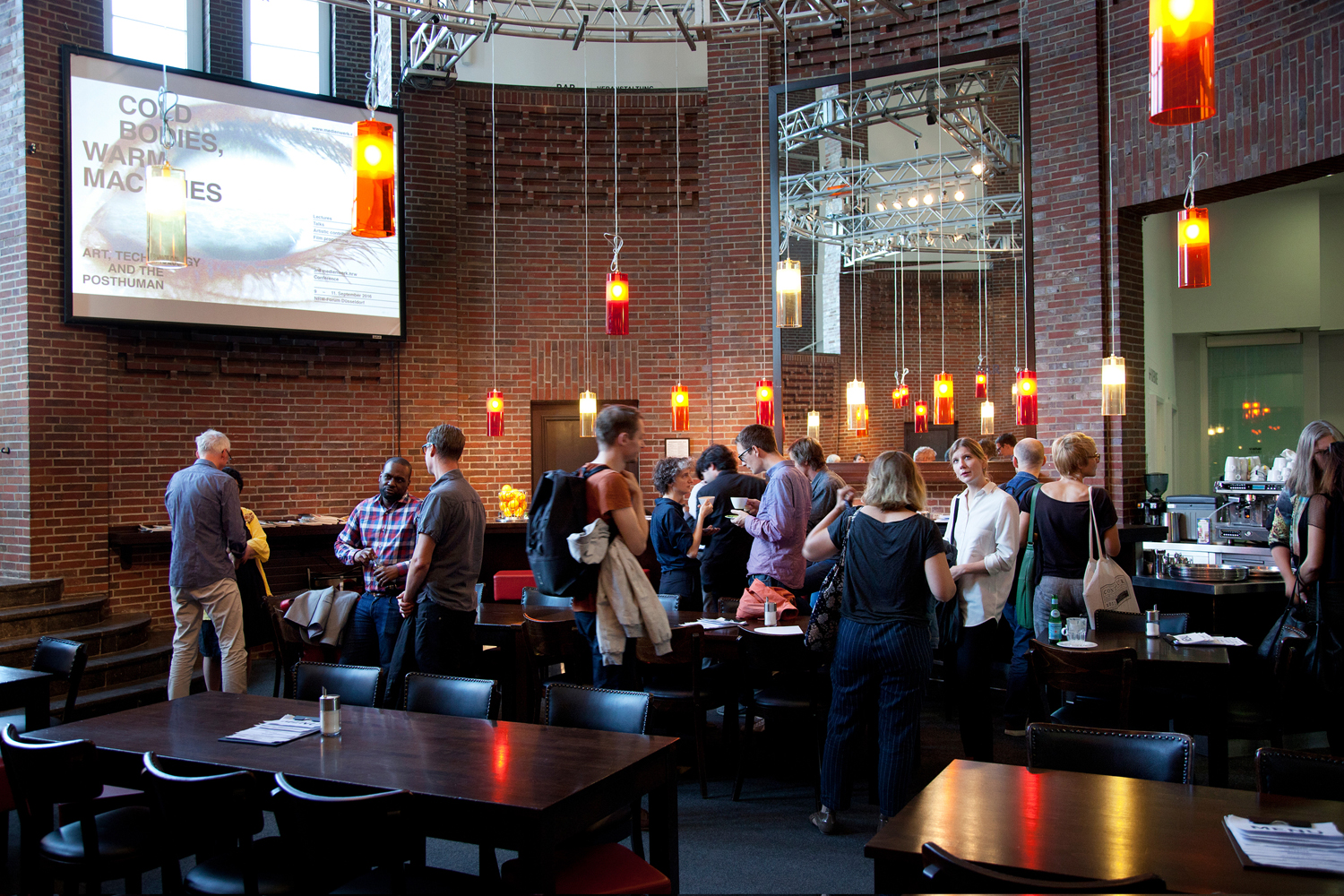 Cold bodies, warm machines – art and technology after human being
NRW-FORUM DÜSSELDORF
FR, 09.11. – SUN, 11.11.2016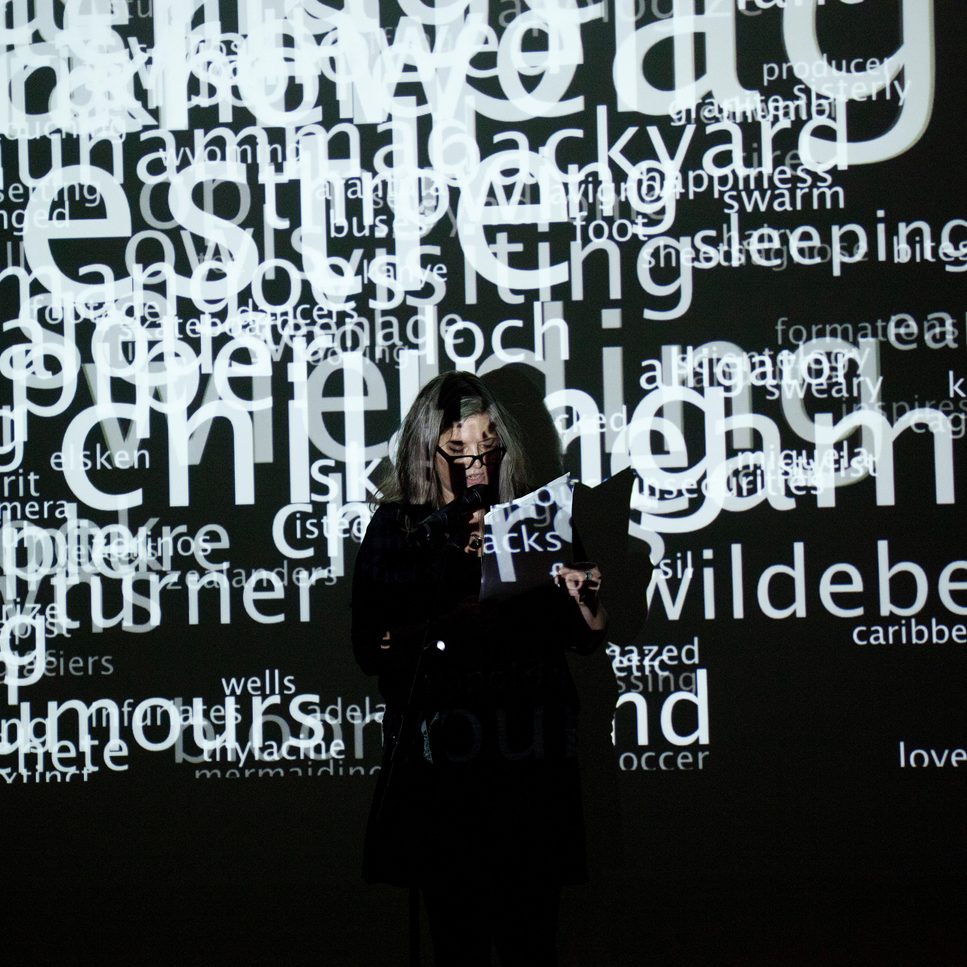 Based on current concepts in digital technologies such as "affective computing", utopias of the cybernation of the body as well as tendencies in artificial intelligence research, the conference "Cold bodies, warm machines – art and technology after human being" (organized by the office medienwerk.nrw) focused anwew on the relationship between human being and machine: What are the current boundaries which shift between the sphere of the living and the sphere of the artificial? Various of these phenomena were explored and discussed in lectures, talks, artistic contributions and a film programme. What would change if we developed machines with an increasingly sensitive sensorium which "understand" and classify us and our emotional movements – new actors who learn and act – while we increasingly see our own biological bodies as a resource which can be optimized and programmed?
The conference based on an interdisciplinary approach: it brought together scientists, artists and interested citizens in order to proactively accompany the far-reaching social changes – which has already started – and to conduct intensive futurology for three days using the means of art and exchange.
With: Ramon Amaro, Inke Arns, Alain Bieber, Andreas Broeckmann, Melanie Bühler, Ami Clarke, Sidsel Meineche Hansen, Laura Hille, Erich Hörl, Felix Hüttemann, Cathrine Kramer, Tasja Langenbach, Kevin Liggieri, Robert M Ochshorn, Luciana Parisi, Sascha Pohflepp, RYBN.ORG, Alexander I. Stingl, Markus Tillmann, Michael Wheeler, Inigo Wilkins
KEYNOTES
ERICH HÖRL: »TECHNO-ECOLOGICAL CULTURE OF MEANING (FÉLIX GUATTARI)«
In the light of the general cybernetisation of existence modes and the development of environmentalism as a form of government implemented by media technology, the lecture presented Félix Guattari as a pioneer of the new, namely techno-ecological culture of meaning which emerges in the process. Special attention was paid to the critical range of Guattari's concept of integrated world capitalism, which had to be reprioritized with regard to the environmentalist transformation.

ANDREAS BROECKMANN: »MACHINE LOVE AND SIBLING STRUGGLE. ON THE RELATIONSHIP BETWEEN PEOPLE AND TECHNOLOGY«
Machines occur in many different ways and have been defined in many different ways. Throughout the last century, the term has been used to describe a polar, if not antagonistic, relationship between humans and technology. The lecture discussed various concepts of machines and proposed a diagram according to which "the machine" can be understood as the expression of a technological paradigm, that projects not so much posthuman as entirely human desires.
ROBERT M OCHSHORN: »PROTOTYPES«
A prototype is both, provisional and exemplary, and refers to a reality which has not yet been implemented. Just as people create tools and techniques and are in turn created by them, software prototypes must be understood as crude Frankenstein sketches of a new person. Does this person have certain abilities? A body? Is a "symbiosis" with the computer possible, and if so, could it provide insights into artificial and statistical intelligence? Considerations and evidence about and in the media/voice prototypes of the speaker.


PERFORMANCE
AMI CLARKE: ERROR-CORRECTION: »AN INTRODUCTION TO FUTURE DIAGRAMS MIT LOW ANIMAL SPIRITS«
Error-Correction: An Introduction to Future Diagrams (Take 7) is part of an ongoing series of research on diagrams, which take up and process thematically relevant texts, contemporary commentaries, news and anecdotal traces to culminate in a mutual convergence of many interwoven threads, whereby the voice, using language, is constituted "between another person's thoughts and the paper". Based on Jonah Peretti, the founder of BuzzFeed, and his book Capitalism and Schizophrenia: Contemporary Visual Culture and the Acceleration of Identity Formation/Dissolution, Take 7 is primarily interested in materiality, algorithms and an evolving subjectivity. Low Animal Spirits by Ami Clarke and Richard Cochrane is an algorithm for high frequency trading, fed in real time with news from around the world.
 
FILM PROGRAM
The film programme on "Cold bodies, warm machines" expanded the discourse space of the conference into the moving image and showed artistic film- and video-works that depicted various facets of the man-machine relationship and questioned them, usually critically. What in early science fiction films still seemed like distant utopias of possible android life forms is today a natural part of our reality. The progressive merging of human being, machine and technology in everyday life as well as the increasing control of our living environment through data flows and computer-controlled aids is reflected in the moving image then and now. In contrast to then, the artists today do not rely on utopias, but on the latest scientific findings and research as well as on personal everyday experiences. The film programme showed a selection of works from 2007-2015, which deal with the status quo of the human-machine-relationship through experimental documentary formats, found-footage collages and performative interventions.
Curated by Tasja Langenbach (Videonale, Bonn)
SCHEDULE OF THE CONFERENCE
FRIDAY, SEPT. 9TH, 2016
7:30 P.M.
OPENING OF THE CONFERENCE
(Ruth Schiffer, Ministry for Family, Children, Youth, Culture and Sport of the State of North Rhine-Westphalia; Alain Bieber, NRW-Forum Düsseldorf; Fabian Saavedra-Lara and Klaas Werner, medienwerk.nrw office)
8:00 P.M.
Keynote I: Erich Hörl
"Techno-ecological culture of meaning (after Félix Guattari)"
9:30 – 10:00 P.M.
Film programme – first part
SATURDAY, SEPT. 10TH, 2016
11:00 A.M.
Keynote II:
Andreas Broeckmann "Love of machines and sibling struggle. On the relationship between humans and technology"
12:15 P.M.
Artistic keynote: Robert M Ochshorn Prototypes
2:15 P.M.
Panel 1: Machines which think and want: Neural networks, behavioral modeling and computer models of cognition (in cooperation with Goldsmiths, University of London)
4:00 P.M.
Film programme – second part
5:30 P.M.
Panel 2: Neural networking – Communication with machines
7:00 P.M.
Performance by Ami Clarke
SUNDAY, SEPT. 11TH, 2016
11.30 A.M.
Panel 3: The posthumanist threshold or: On the possibility of thinking one's own end (in cooperation with the Mercator Research Group "Spaces of Anthropological Knowledge, Ruhr-Universität Bochum)
2:00 P.M.
Film programme – third part
3:30 P.M.
Panel 4: Man as machine – phantasms of the optimization of mind and body
5:15 P.M.
Talk between Inke Arns (Hartware MedienKunstVerein, Dortmund) and Sascha Pohflepp (artist, Berlin/US)
6.00 P.M.
End of event
Organizer: Office medienwerk.nrw
Office hosted by: Hartware MedienKunstVerein (HMKV)
Project Team: Program Director Fabian Saavedra-Lara (medienwerk.nrw), Program and Organization Klaas Werner (medienwerk.nrw), Curator Film Program Tasja Langenbach (Videonale, Bonn)
cooperation partners: NRW-Forum Düsseldorf; Goldsmiths, University of London; Mercator Research Group "Spaces of Anthropological Knowledge", located at the Ruhr-University Bochum
The conference and medienwerk.nrw were sponsored by the Ministry for Family, Children, Youth, Culture and Sports of the State of North Rhine-Westphalia.
Further funding: British Council
Our upcoming events
There are no upcoming events at this time.