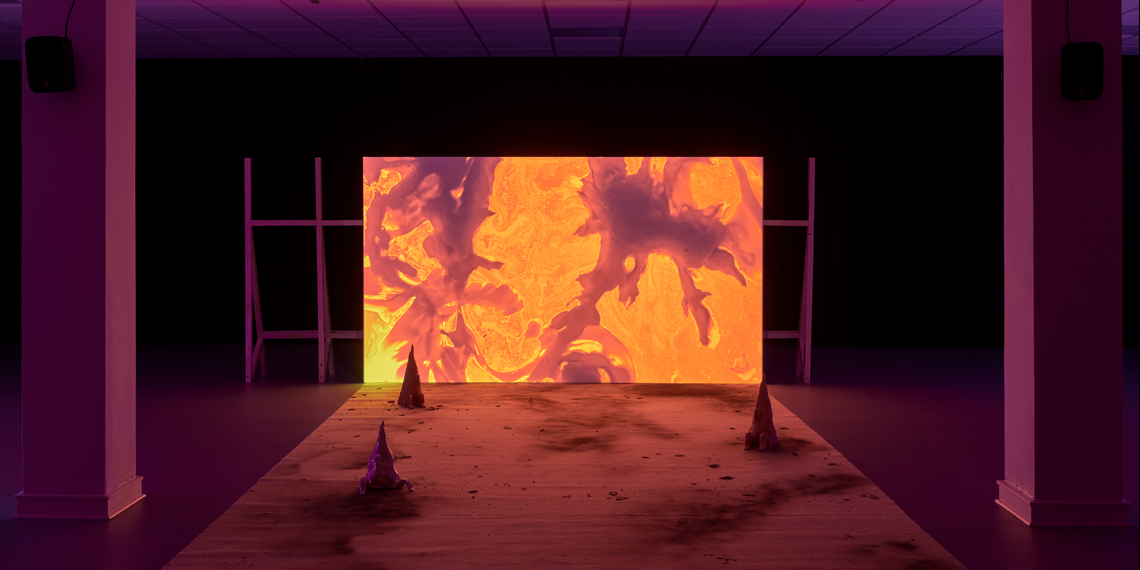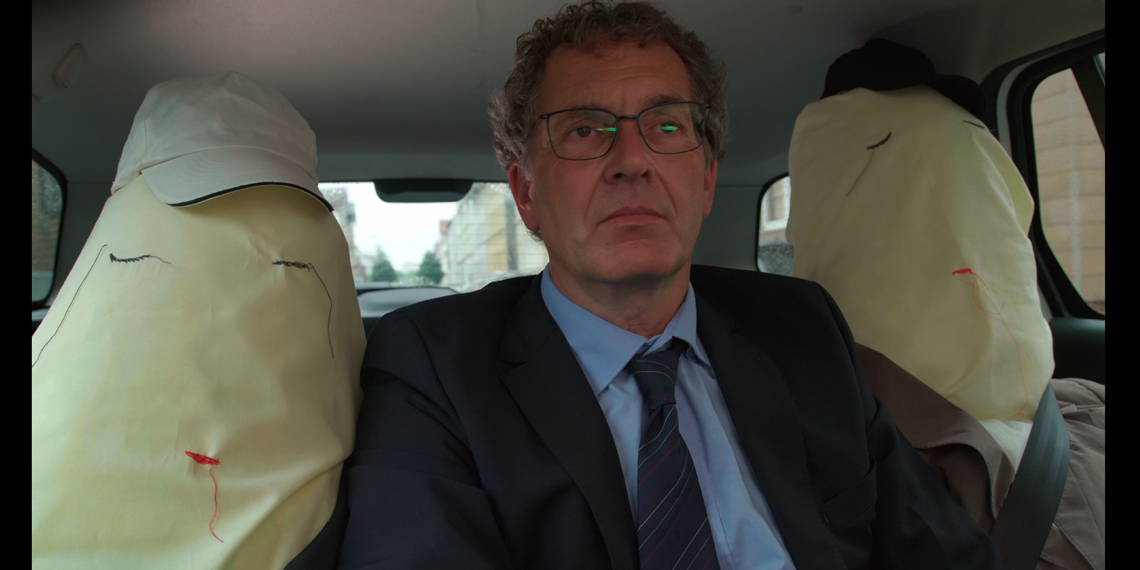 Ani Schulze_Flint House Lizard_Installationsansicht_Kunstverein Siegen_2021 Foto_Simon Vogel
Ani Schulze_Suffusion of Yellow_Videostill
Ani Schulze
1982, Frankenberg
STIPENDIUM 2022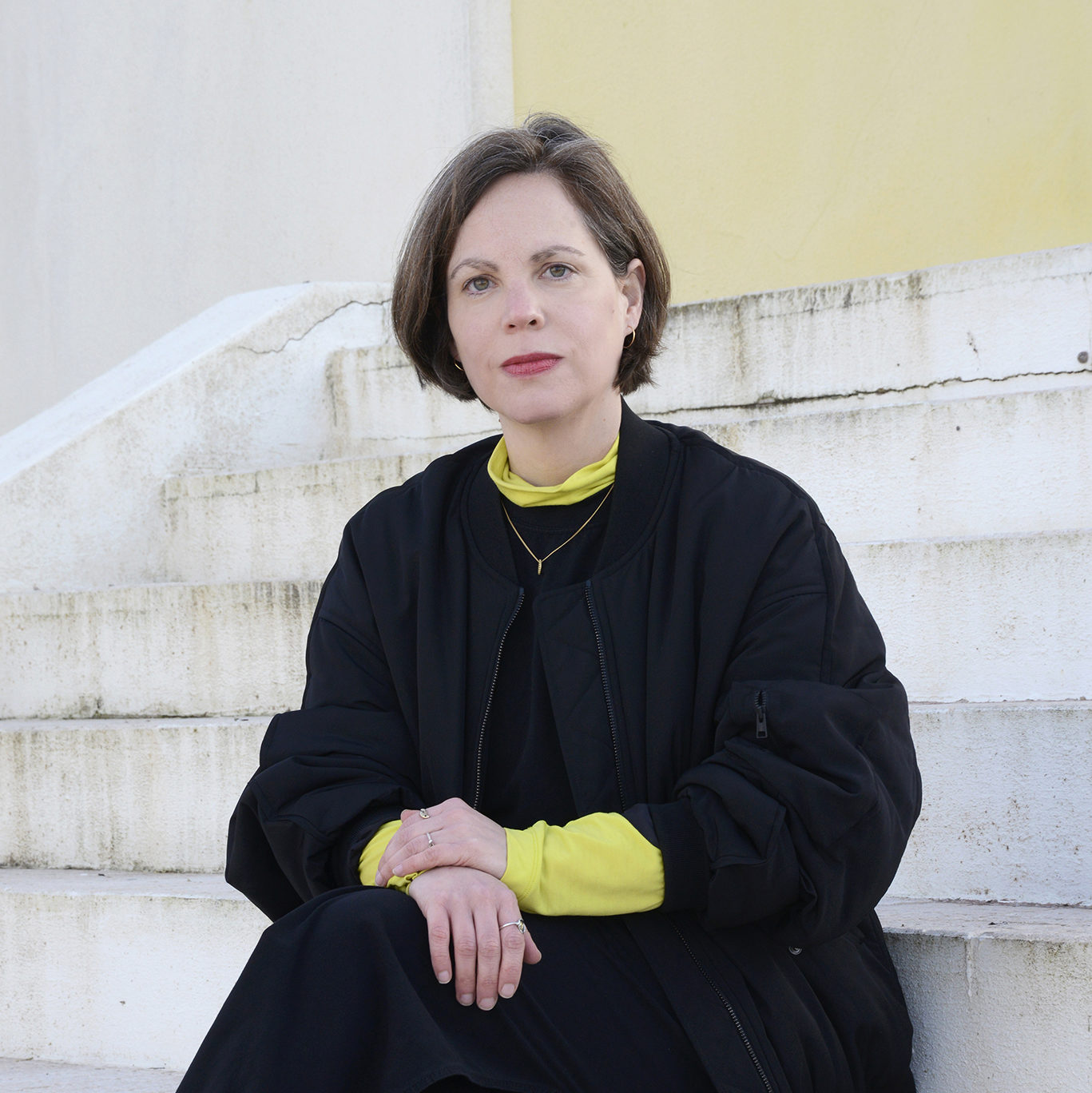 The scholarship of the state of North Rhine-Westphalia for female media artists 2022/23 was awarded to Ani Schulze.
Members of the three-person jury were Heike Ander (cultural scientist and curator, Academy of Media Arts, Cologne), Dr Linnea Semmerling (Director IMAI Foundation – Inter Media Art Institute, Düsseldorf) and Julia Weißenberg (artist and NRW Media Art Fellow 2020, Cologne). The jury selected the scholarship holders from 62 applications.
Jury statement
Ani Schulze works with the media of video, drawing and sculpture, among others, which she combines to create multimedia spatial landscapes. Intense sounds and pressing rhythms give her surreal, fragmentary visual worlds an inescapable attraction. The themes that interest Ani Schulze range from non-linear narrative strategies and the interweaving of natural and cultural landscapes to materiality and digitality in image design.

In her project The Hurricane, Ani Schulze dedicates herself to the fictional utopia of a radical community of women from the 17th century, living free of patriarchal constraints. Century. The artist wants to link this with the lives and works – sculptures, figurines, costume designs, watercolours, drawings – of three French women artists of the 20th century to create hybrid characters in the interweaving of mythical and real female figures, which she stages in collaboration with two dancers in a speculative, abstract-spatial scenario. With the help of computer-generated animations, the boundaries between the historical figures and their actors, real and fictional spaces, historical facts and anecdotes are to be dissolved.

Ani Schulze convinced the jury with her dense, collage-like multimedia spatial installations in which, with an extraordinary sense of rhythm and dramaturgy, she interweaves a wide variety of media and materials – such as video, drawing, sculpture, ceramics, sound, found footage – to create complex, surreal-seeming narratives and ambivalent emotional images of our society.
We are excited to support The Hurricane by Ani Schulze in 2022/23 with the NRW scholarship for female media artists, a project that aims to create perspectives for new spaces of possibility and realities against the backdrop of virulent questions of coexistence, historiography and constructions of femininity.
EVENTS OF THE PROJECT THE CONVENT OF PLEASURE
Opening 21 October 2023, 6 to 9 pm
from 22 October to 19 November 2023


Opening hours
Sat and Sun | From 3 to 6 pm
mail@apathcp.com
at Moltkerei Werkstatt
Moltkestrasse 8, 50674 Cologne

Go to the website with more information here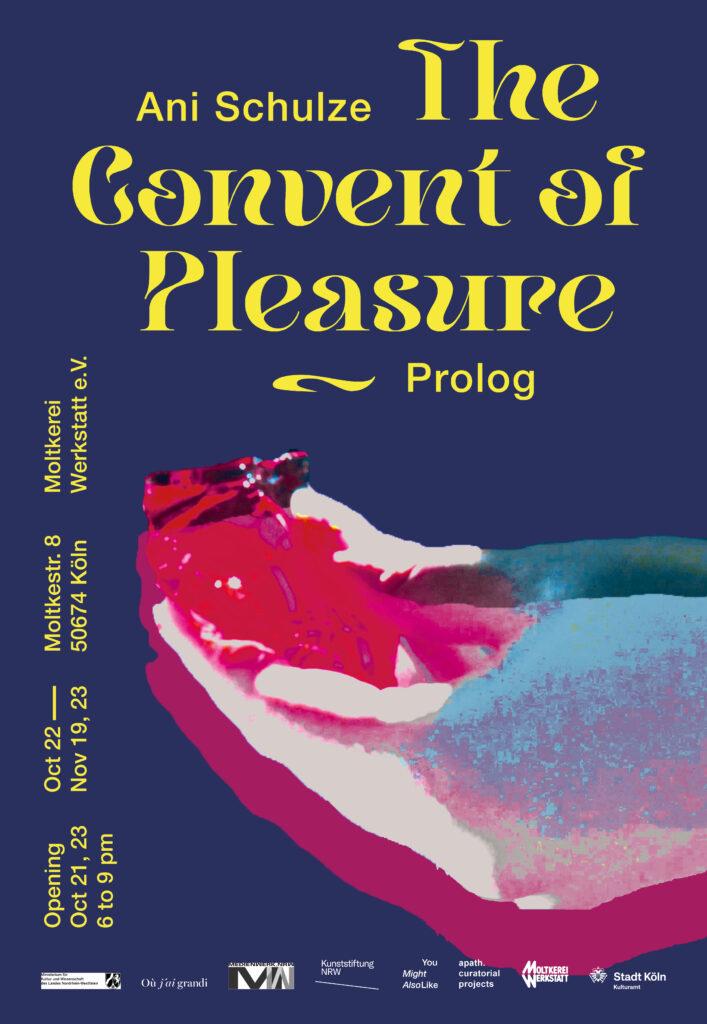 Ani Schulze's (*1982) work moves seamlessly between video, sculpture, painting and installation. She studied at Städelschule Frankfurt, Glasgow School of Arts, Kunstakademie Düsseldorf and Karlsruhe. Her work investigates the correlation between the human body and its environment as well as the construction of feminity. Her works have been shown recently at Hamburger Kunsthalle, Kunstverein Siegen, Salzburger Kunstverein and I: Project Space in Beijing.

Further information on the artist's website


Portrait: © Jorge Nogueira;
Images of the installations: © Simon Vogel, Ani Schulze, Flint House Lizard, Kunstverein Siegen, 2021; Video still: © Ani Schulze, Suffusion of Yellow, 4K Video, mit Sound, 10 min, 2021